Paranoid v0.99.9
About
Paranoid is breakout clone with a very retro feel - green arcady graphics with vertical scanlines at an extremely small resolution (200x160 emulated on 640x480), beepy sound effects and chip music will all take you back at least 15 years. This version is almost finnished, it just needs some original music. It currently contains 40 levels of increasing difficulty which should keep you busy for a couple of hours.
Requirements
Pentium 2 @ 266 MHz or higher
32 MB RAM
graphics card that can do 640x480 @ 8bpp
sound card optional

Screenshot
Here's how the game looks like.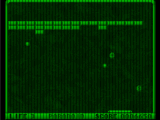 Paranoid
Download
| | | | | | | |
| --- | --- | --- | --- | --- | --- | --- |
| file | version | date | size | description | author | preview |
| Paranoid (installer) | 0.99.9 | 23.03.2004 | 653k | A retro breakout clone, Windows installer. | Miran Amon | |
| Paranoid (zip) | 0.99.9 | 23.03.2004 | 333k | A retro breakout clone, source+data only. | Miran Amon | |