Gem Game
About
This is a simple remake of the well known game Bejeweled which is available on many platforms in one form or another under different names. Many spin offs of Bejeweled have been made by many different authors. This game is a remake of the original, and only the normal non-timed mode is available.
This game is a plugin for AMGC2 which you can get here. To install simply unzip the contents of the zip with this redme file to the games subdirectory in the location where the AMGC2 is installed and compile the source by running 'make' if you have to (i.e. if you're on Linux).
Screenshot
Here's how the game looks like.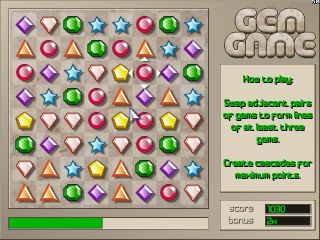 GemGame
Download
You can download the game from the AMGC2 page.